Handy Wrap and Spiral Wrap
Handy Wrap and Spiral Wrap
We are specialists in the supply of handy wrap (hand bundling film) and spiral wrap (the same product but designed for machine application).
What is Handy Wrap?
Handy wrap is also known as bundling stretch film. It is an extremely useful product having a huge range of applications, but is essentially used for bundling. e.g attaching small or long products together to keep them safe and protected in transit. It is often used instead of tape and can be applied with or without a dispenser.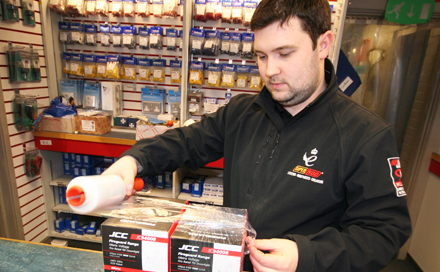 As both Handy Wrap and Spiral Wrap can be used in place of tape but without the sticky residue or potential for marking items, it has a huge amount of applications in different industries and even at home!
It's ideal for plumbers, for keeping copper and PVC pipes together and protected.
It can be used to keep coils of cable or wire in place.
Wood products, tiles, doors and windows and other construction items can be wrapped ensure they arrive on site without chips, scratches or rubs.
It secures any small or difficultly shaped items together for shipping.
It can be used to keep a container shut if tape isn't appropriate.
Carpets, rolls of flooring and even artist's canvasses can be wrapped for both protection and ease of carrying.
Protect items from dust and, if applied correctly, water.
It's always useful to have a roll on hand if you're moving house!
Handy wrap/ Spiral wrap product specifics
Cast or blown quality available.
Choice of clear, blue (translucent) black or white.
Standard, extended or offset core available.
We have a variety of microns from 12–34 mu.