Machine Wrap
Specialists in the supply of machine pallet wrap, giving
you the choice of…
Standard (150%).
Power Prestretch (250%).
Super Power (300%).
Microwrap® branded prestretched (saving you time and money).
Perforated for loads requiring "breathability".
The above can be supplied in a range of colours (clear, blue, black and white) and a variety of microns.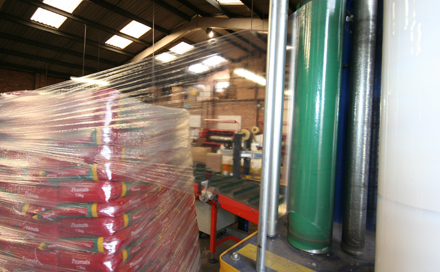 Benefits of machine pallet wrap:
We guarantee our quality, so you know you won't be wasting your valuable time handling complaints.
We don't impose any minimum quantities – you only buy what you need.
Superb load stabilization, ensuring your products arrive as they left your factory.
Protection (from dust, and to a lesser extent water if applied correctly).
Identification (blue for food, eg)..
Security (black) so cannot see what products are being transported.
Clear or blue allows visibility of product.
Choice – specs, quality, core size.
Call one of our friendly team on 01476 576 090 for a fast quote or click here to email us